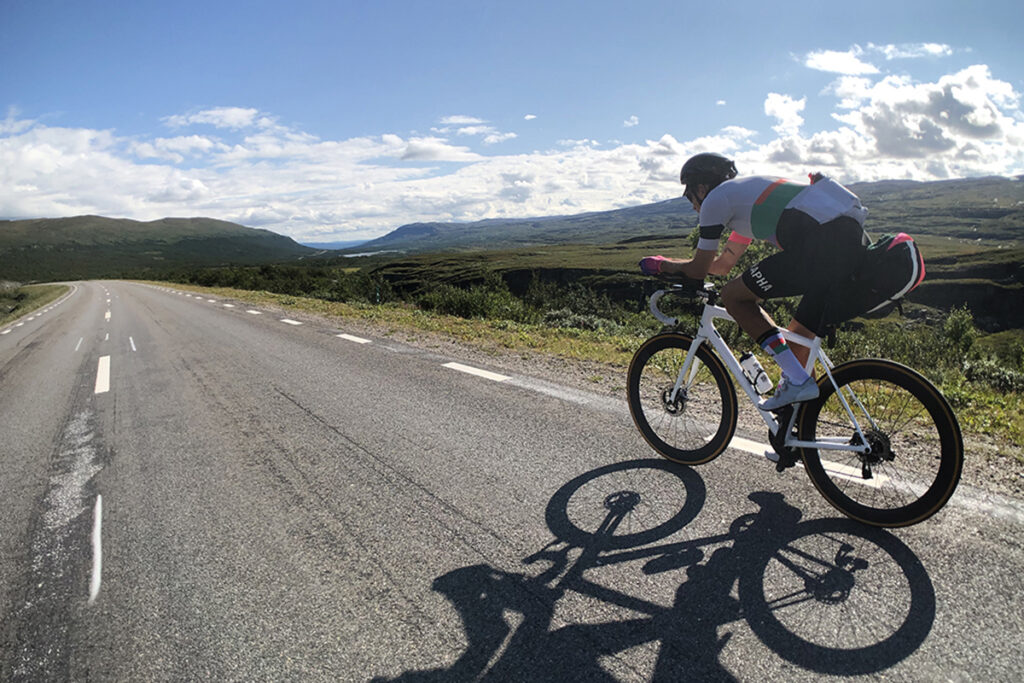 On the 19th of June 2022, the cycling club Cykelintresset will host a "grande randonnée" called Midnight Sun Randonnnée 1200 (MSR).
A brevet that is longer than 1000 km is not sanctioned by Audax Club Parisien (ACP) but instead by the world organisation Randonneurs Mondiaux (RM) which promotes randonnée cycling globally. These ultra-distance brevets over 1000 km therefore have the designation LRM (Les Randonneurs Mondiaux). They are organised in the same way as ACP-sanctioned brevets, so-called Brevets des Randonneurs Mondiaux (BRM), but these ultra-distance brevets may have higher registration fees which include food and sleeping accommodation. Medals are also issued for brevets sanctioned by Randonneurs Mondiaux.
---
Name: Midnight Sun Randonnnée 1200
Starting places: 100
Start, address: Brännland Inn, Brännland 35 Umeå
Finish, address: Scandic Plaza Umeå, Storgatan 40 Umeå
Start time: 23:07 – 00:07
Start date: Sunday 19 June 2022
Min.- /Maximum time: 40:47 – 90:00 hours
Number of checkpoints: 10 (+ start/finish)
Checkpoints: Lycksele, Storuman, Kittelfjäll, Hattfjelldal, Yttervik, Polcrkeln, Tjaktjaure, Arjeplog, Sorsele, Mårdsele
Length of course: 1 205,0 km
Total ascent: 12 005 m (highest point 740 m a s l)
Course on Garmin Connect: MSR 1200 2022

Web address: www.midnightsunrandonnee.se
Email address: info@midnightsunrandonnee.se
Facebook: Event on Facebook
---
---
Qualifying
MSR has a demanding course profile and the region's subarctic climate can also be a decisive factor. If you are not an experienced randonneur it is important that you make a realistic assessment of your chances of completing the brevet before you register. As in all randonnées, if you do not finish, you are responsible for your own transport back to the starting point.
The event MSR is primarily aimed at randonneurs who over the past two years have completed a full series of brevets, or cyclists who have completed a corresponding ultra-distance race. If you do not have any of the above qualifications but still think that you can complete the brevet, it is advisable to complete a 400 km brevet during the spring of 2022 which will give you a good indication of your chances of completing this brevet.
Covid-19
In order to participate in the event, you must – without exception – be fully vaccinated against Covid-19. Before starting, you must be able to present an EU COVID-19 pass, NHS COVID pass (UK) or equivalent. You will later need to have your Covid pass (with QR-code) and passport close at hand when entering Norway. Latest Covid information for visitors to Sweden.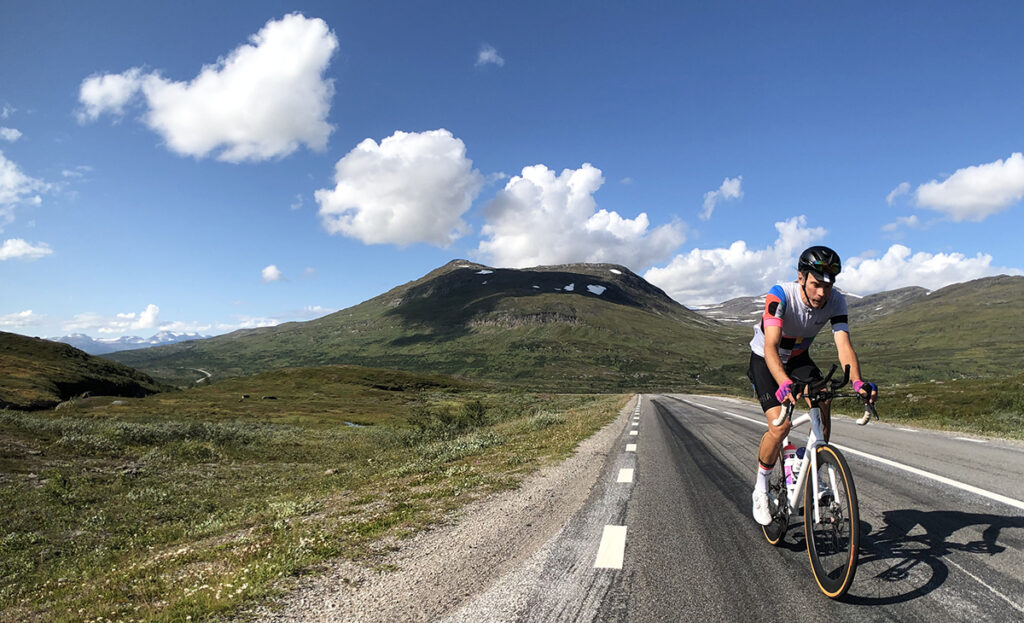 Registration and payment
The first edition of MSR will have 100 starting places, see starting list MSR 2022. Registration period from 7th of October 2021 to 12th of June 23:59 2022. If you are unsure that you will have the opportunity to participate in the brevet, you can reserve a starting place until the 31st of December. If you have already decided to participate, you can register immediately.
---
Reservation: 200 SEK (17 GBP/23 USD/20 EUR). Reservations can be made until the 25st of December. Please note that a final registration must then be made no later than the 31st of December! The reservation fee is not deducted from the registration fee. At 00:01 on the 1 st of January, all reserved starting places will be canceled automatically!
The reservation can be transferred. Non-refundable.


---
Registration: 2000 SEK (168 GBP/232 USD/200 EUR). The registration fee is 2000 SEK up to and including the 28th of February, then 2500 SEK from the 1st of March until the 12th of June, 23:59. Included in the registration fee: cold meals, snacks and beverages at all ten checkpoints on route and at finish. Also included are basic sleeping arrangements at seven checkpoints (which may also include showers etc). Some of these checkpoints may also offer mechanical services. The registration fee also includes the RM medal which is awarded upon completion of the randonnée. This ultra-distance event is an exploration into the subarctic wilderness and aims to capture the solitude of this experience. Riders are therefore expected to carry all requisite equipment on their bikes from start to finish. There will in other words be no bag drop service.
The registration can be transferred. Non-refundable.
Late registration: 3000 SEK from the 13th of June until the 17th of June, 12:00.
The registration can be transferred. Non-refundable.


---
Dinner: 300 SEK (25 GBP/35 USD/30 EUR). The day before the event, the organiser Cykelintresset will hold a dinner at Brännlands Inn in honour of the participants of MSR. The dinner will have a nordic theme that will appeal to both the gourmet and the carb-loader. Last registration date: 28th of May, 12:00. Casual attire. Free parking.

Dinner ticket can be transferred. Non-refundable.
Address: Brännlands Inn, Brännland 35 Umeå
Date: Saturday 18 JuneTime: 17:00 – 20:00


---
Please note, no exceptions are made to the above rules. In order to participate in the event you must be fully vaccinated against Covid-19. The organiser Cykelintresset has no obligation to refund your registration fee if you for any reason are unable to participate in the event. Emergency road works, extreme weather and other unforeseen circumstances may force the organiser to make changes and adjustments to the event at short notice, including the course, checkpoints and service at the checkpoints. The organiser reserves the right to do this without compensation to participants. By registering, you accept the above terms and conditions.
The insurance company Folksam can refund your registration fee in the event of illness and injury if you purchase their insurance policy "Motionsloppsförsäkring Bas" or "Motionsloppsförsäkring Stor." These insurance policy's can be purchased online when registering and they also cover international participants!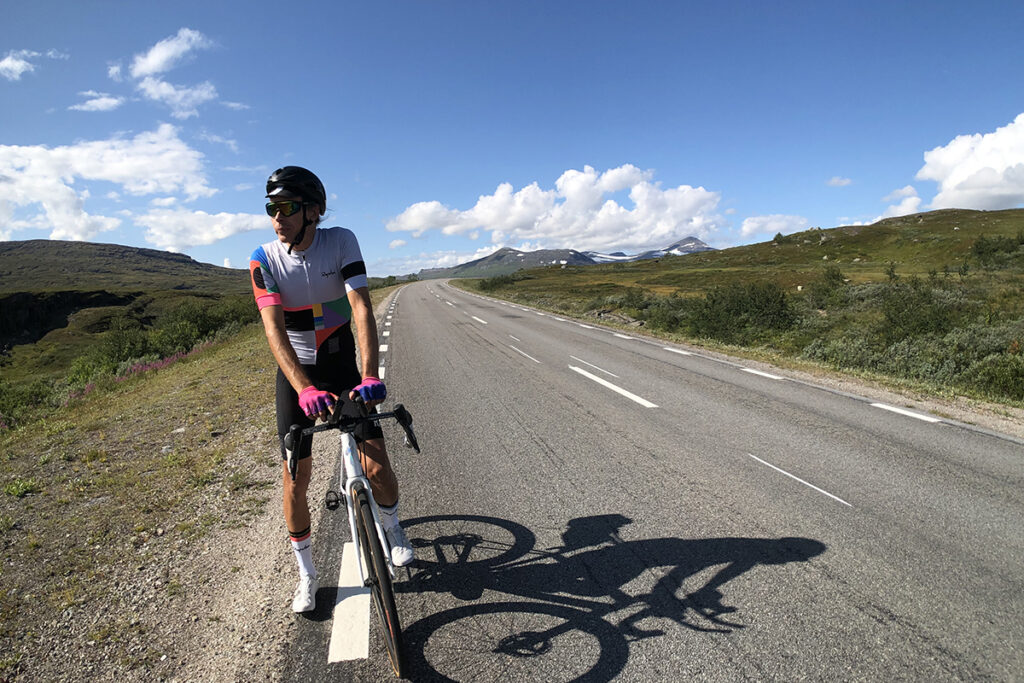 Brevet rules
Audax Club Parisien's standard rules and regulations for brevets apply to MSR 2022. The most important rules are the following:
Wear a helmet.
Use bike lights in dark conditions. A lit taillight is recommended on roads with high speed limits, also during daytime.
During the event, each rider is considered to be on a personal ride. Follow the traffic codes. You are responsible for your own safety in traffic.
Follow the course. A brevet is a challenge of endurance. Therefore, do not take shortcuts/detours. Exceptions can be made if the official route is closed due to unplanned road work, a traffic accident etc. If for any reason you leave the course, reconnect to it at the place where you left.
The checkpoints must be passed within the prescribed opening and closing hours. Wait if you arrive early. You will be disqualified if you pass a checkpoint before it has opened! There may be acceptable reasons for arriving at a checkpoint late, for example helping a rider who has had an accident, unannounced road closures or other unforeseeable factors. However, faulty personal equipment, general fatigue, hunger, lack of fitness, headwinds, rain, etc., do not constitute acceptable exceptions to this rule.
Organised personal assistance between the checkpoints is not permitted, for exempel follow cars or food depots next to the road.
To participate, you must be able to present a group or personal liability insurance.
By registering to the event, you accept that your name, finishing time and photographs from the event in which you appear can be published by the organiser.

Complete rules and regulations [English]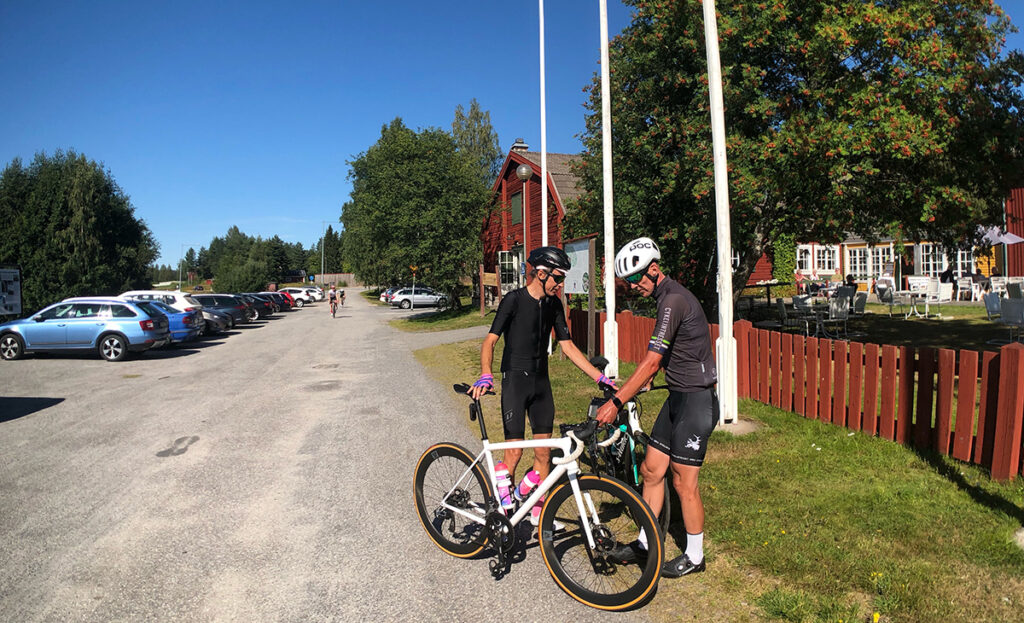 Course description
The starting point, Brännland Inn, is located on the outskirts of Umeå about 10 km from the centre. Start takes place at sunset, 23:07. The initial part of the course follows the European route E12 (Blå vägen = Blue Highway) and the Ume River to Hotell Lappland in Lycksele which is the brevet's first checkpoint. The sun has already risen (sunrise, 02:00) when the first cyclists arrive in Lycksele shortly after 03:00. From here, the journey continues along the river valley of Ume River to Storuman Camping & Cabins in Storuman which is the brevet's second checkpoint. Having completed the first 230 km of the brevet, the cyclists arrive here around breakfast time. Storuman camping is the first checkpoint with organised sleeping arrangements. After Storuman (375 m a s l) the journey enters the Scandinavian mountain range, the Scandes. At the village Forsnacken the course leaves the Blue Highway and follows road 1105, road 1100 and a gravel section of 20 km, road 1093 (the Skansnäs road), down to the village Dikanäs. From there the course then continues on road 1088, to the third checkpoint, Fjälltorget, located in the centre of the village and ski resort Kittelfjäll (535 m a s l).
From Kittelfjäll, participants follow road 296 and reach the Norwegian border after 61 km. Shortly after lunchtime, the first cyclists are expected to arrive in Hattfjelldal (215 m a s l) and the checkpoint Hattfjelldal Hotel. After Hattfjelldal, the participants are led onto a winding and hilly road (road 291/331) which follows the shores of Lake Røssvattnet, Norway's second largest lake (383 m a s l). The road ends with a long but shallow descent of almost 25 km down to the village of Korgen where it connects to the European route E6. Watch out for sheep on the road! About 7 km after Korgen, the course is at sea level again. With a view of the sea and the Ranfjord, cyclists are led on the E6 to the fifth checkpoint, Yttervik camping, about 15 km south of the port city of Mo i Rana (Mo). South of Mo, the speed limit on the E6 is mostly 70 km/h and the traffic pace is modest. Between Korgen and Mo there are two short tunnels that cyclists are allowed to cycle through, and also a stretch of road with tunnels after the village Bjerka that cyclists are redirected around (well signposted).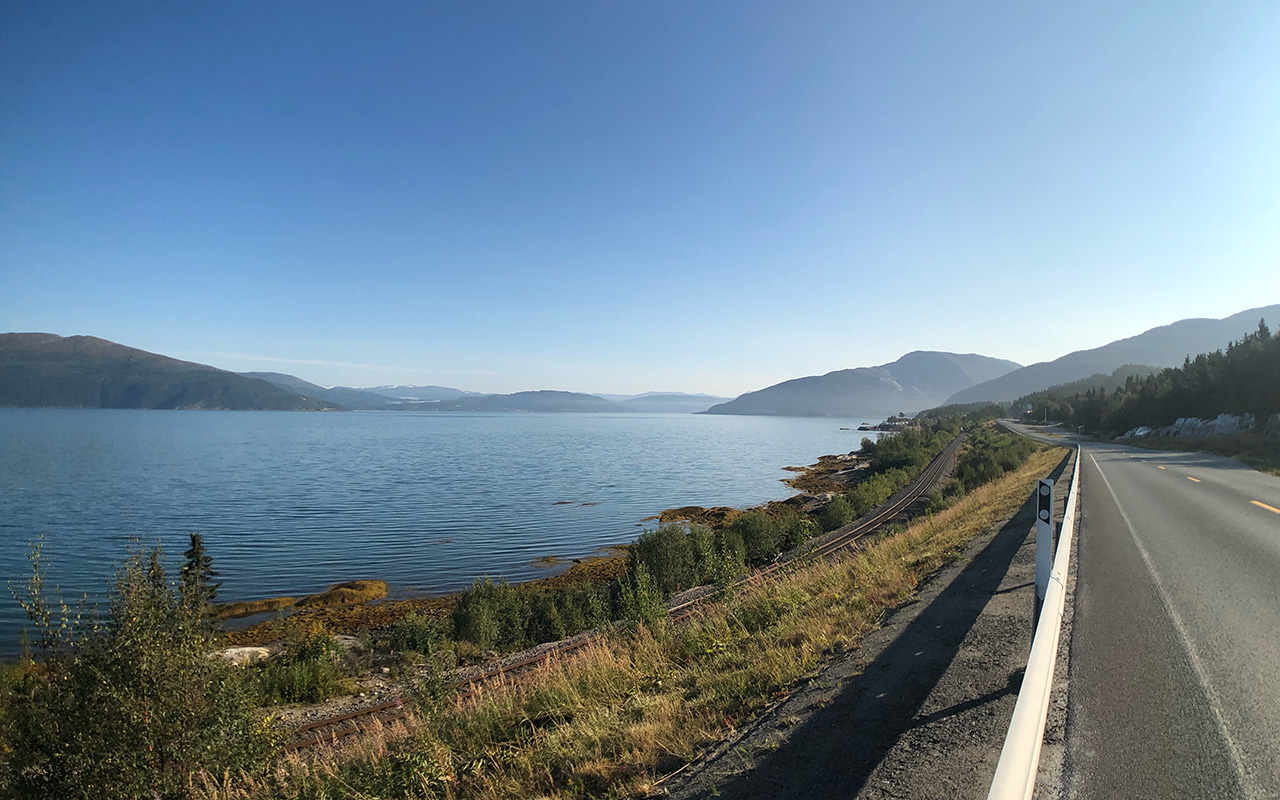 After Mo, the participants leave the sea and the journey continues into the mountains again on the E6. Just before the village of Røssvoll about 8 km north of Mo, cyclists are redirected around a another tunnel (well signposted). About 3 km after Røssvoll there is yet another tunnel that cyclists, on the other hand, can cycle through. It measures 1,3 km and is fairly dimly lit. Bike lights are recommended! The course then leads the riders through the Dunderland valley above the tree line up on Saltfjellet and the sixth checkpoint which is the Arctic Circle Center at the Arctic Circle. A majority of participants arrive at this checkpoint during the night and morning of June 21 just in time for the summer solstice at 09:13:49 (UTC+00).
Large parts of the highway from Mo to the Arctic Circle Center has been rebuilt and resurfaced in recent years so the road surface is mostly excellent. The climb from sea level up to the Saltfjell highway's highest point (692 m a s l) is very easy with slope gradients generally between 2-4 percent. Dunderland is sparsely populated with few villages so the speed limit north of Mo is mostly 90 km/h. Cyclists who want to avoid traffic should take a sleeping break either in Mo or at one of the previous checkpoints and cycle this stage at night (remember, still in daylight conditions). After the Arctic Circle, the journey continues to Junkerdal, where cyclists leave the E6 and begin a more substantial climb on national road 77/national road 95 up to the Swedish border.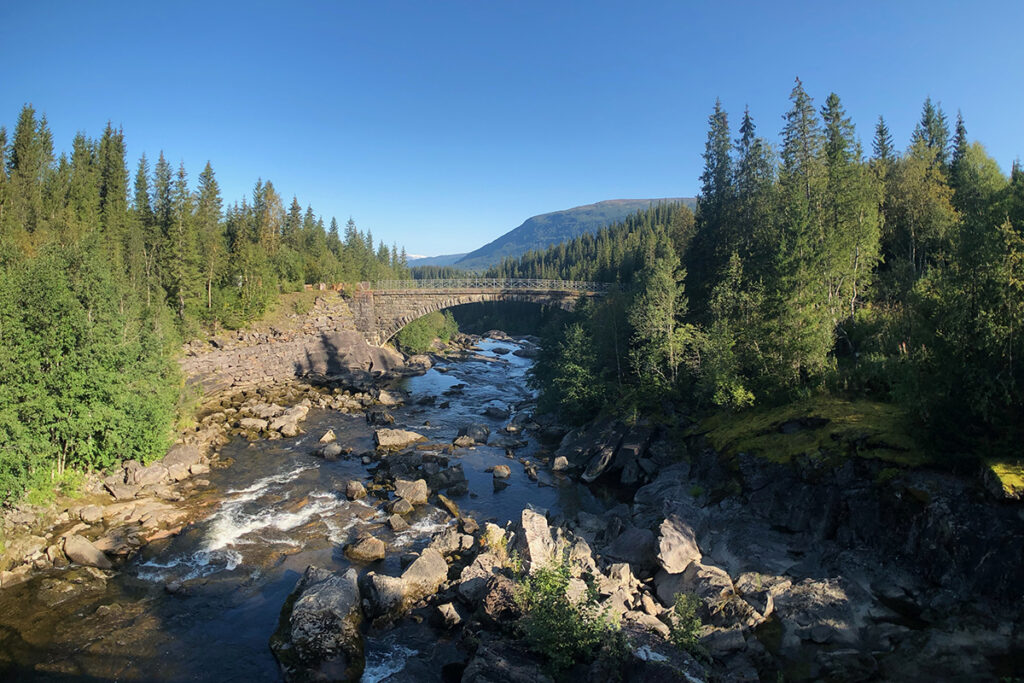 Highway 95 is the only national highway (A-road) that crosses the Scandes above the tree line and about 8 km after the border the course reaches its highest point at 740 m above sea level. From here, the journey continues down to SMHI's (Swedish Meteorological and Hydrological Institute) weather station in Mierkenis and then further on to Lake Tjaktjaure (513 m a s l) and Sandviken Mountain Lodge, which is the brevet's seventh checkpoint. Here, we are still north of the Arctic Circle so the sun will stay above the horizon all night. In addition to sleeping arrangements this checkpoint also has a tiny grocery store. From Tjaktjaure the course continues down to Arjeplog and the eighth checkpoint Hornavan Hotel located on the Lake Hornavan (426 m a s l), Swedens deepest lake with a depth of 221 m. Participants aiming for a finishing time around 75 hours will arrive here after midnight on wednesday while the fastest cyclists, aiming for a finishing time around 50 hours, will have already arrived here late in the morning on tuesday. In Arjeplog you will find the famous Silver Museum which is well worth a visit.
After Arjeplog, the journey heads south on road 609 to Slagnäs where the course connects to the European route 45 (the Inland Road). From Slagnäs, the participants follow the Inland Road to Sorsele and the ninth checkpoint Sorsele Community Center, the last checkpoint with organised sleeping arrangements. From Sorsele, the journey continues 28 km on the Inland Road to road 363 which follows the Vindel River, an unregulated tributary to Ume River which has it source in Vindelfjällen. Vindelfjällen Nature Reserve is one of the largest protected areas in Europe.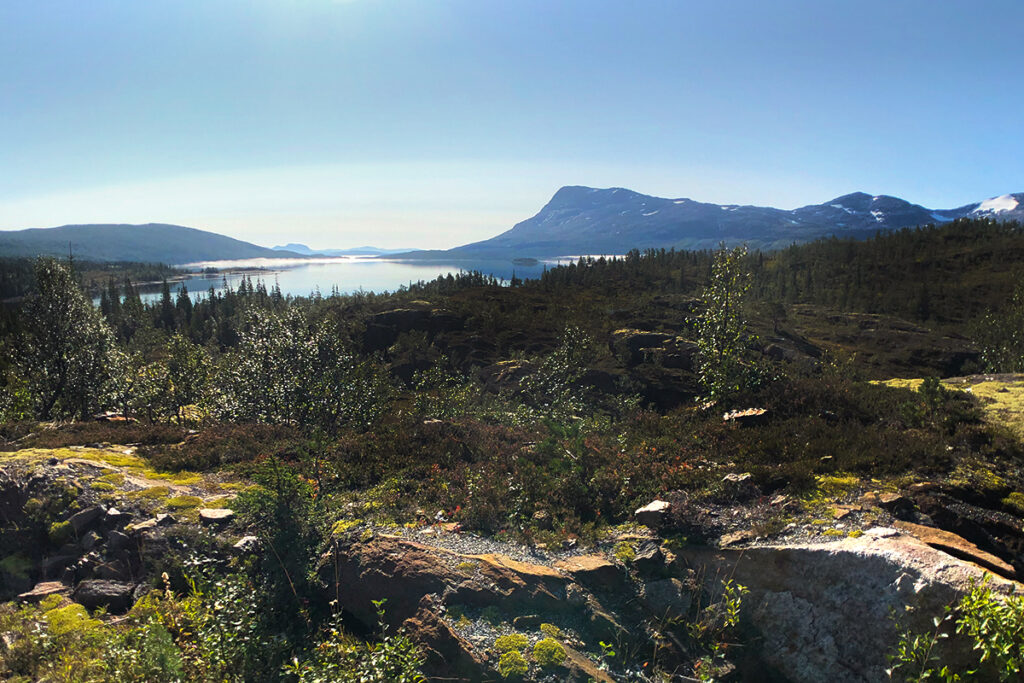 Road 363 leads down to the brevet's tenth and final checkpoint which is Granströms Café in Mårdsele. From Mårdsele, the journey continues past Åmsele and Vindeln on road 363, Sweden's longest county road, to the village Rödånäs where the course turns off onto road 628 and then continues to follow the Vindel River down to the village Spöland where it flows into Ume River. From Spöland, cyclists are led back onto the Blue Highway where it crosses the Vindel River. After 600 m, the course turns off to the now familiar village Vännäsby and road 554. The cyclists once again cross the Ume River and the vast farms fields south of Vännäsby. Just before Sörfors, participants are led past Stornorrfors Power Station, Sweden's second largest hydropower plant, after which they follow the southern banks of the Ume River the remaining 15 km down to Umeå where they cross the Ume River one last time on The Old Bridge before crossing the finishing line at Scandic Plaza Umeå.
Cyclists who maintain an average speed of 18-20 km/h including stops (60-67 hours) will finish between lunchtime and noon on Wednesday the 22th of June. Cyclists who maintain an average speed of 14-16 km/h including stops (75-86 hours) will finish during the night until lunchtime on Thursday the 23rd of June.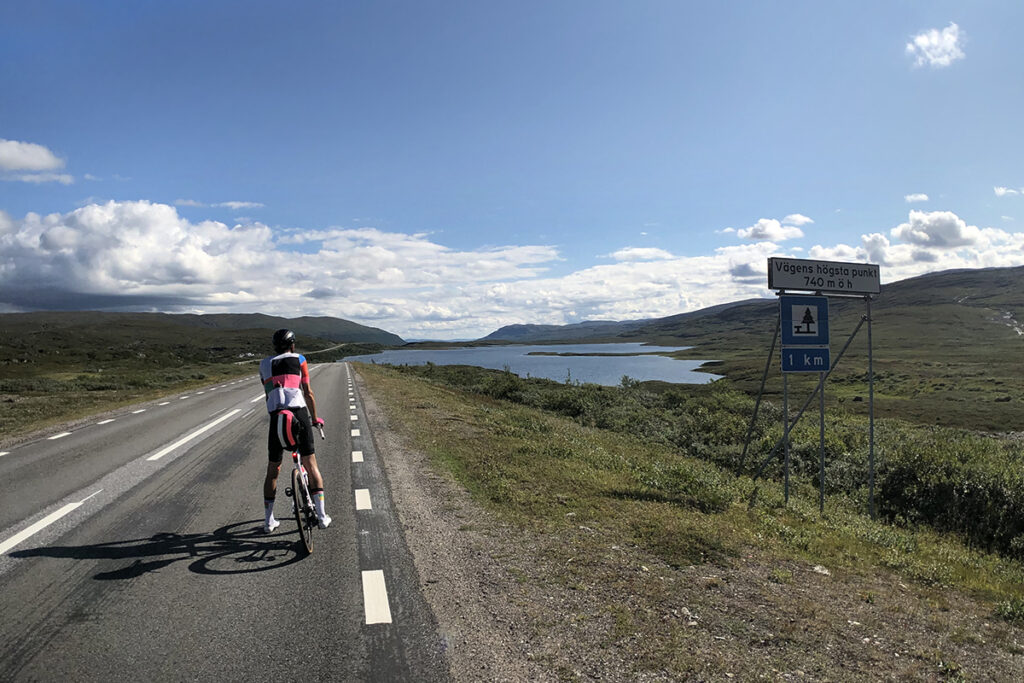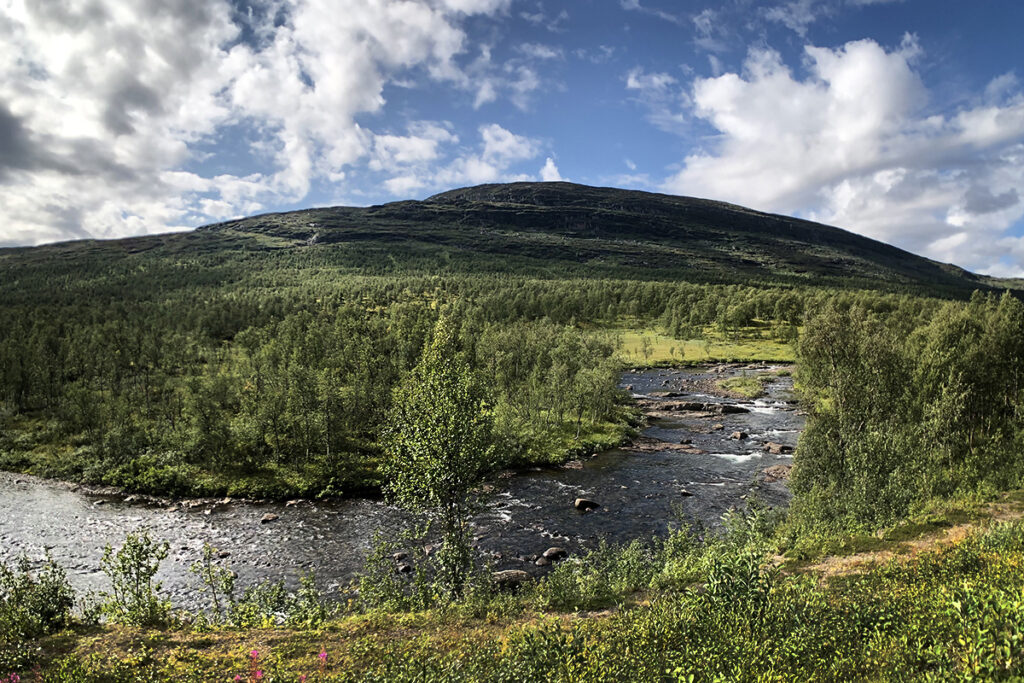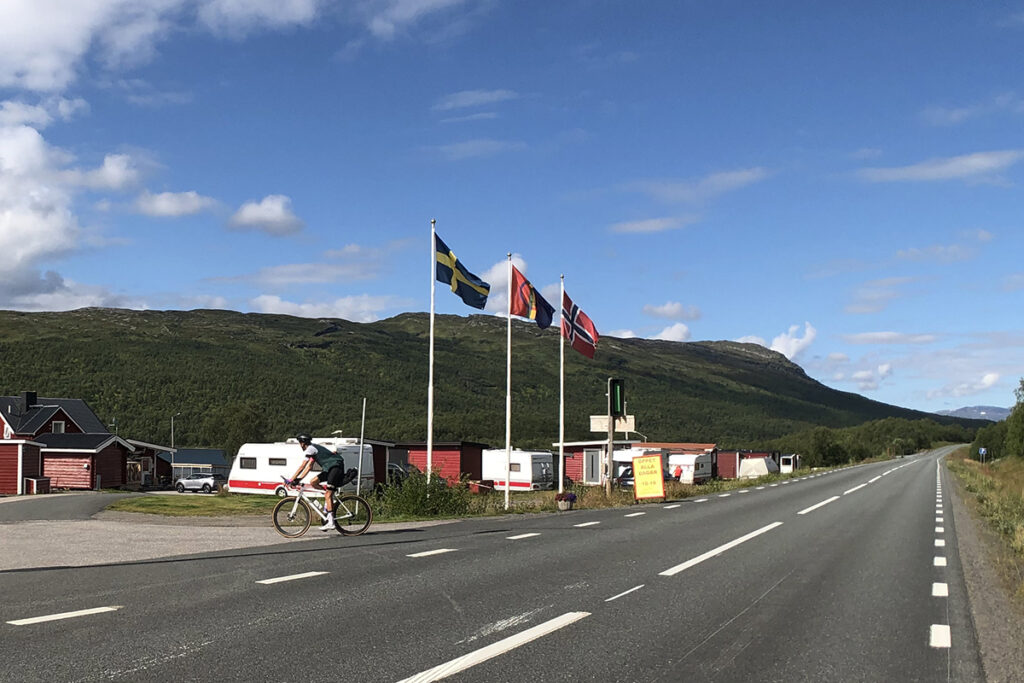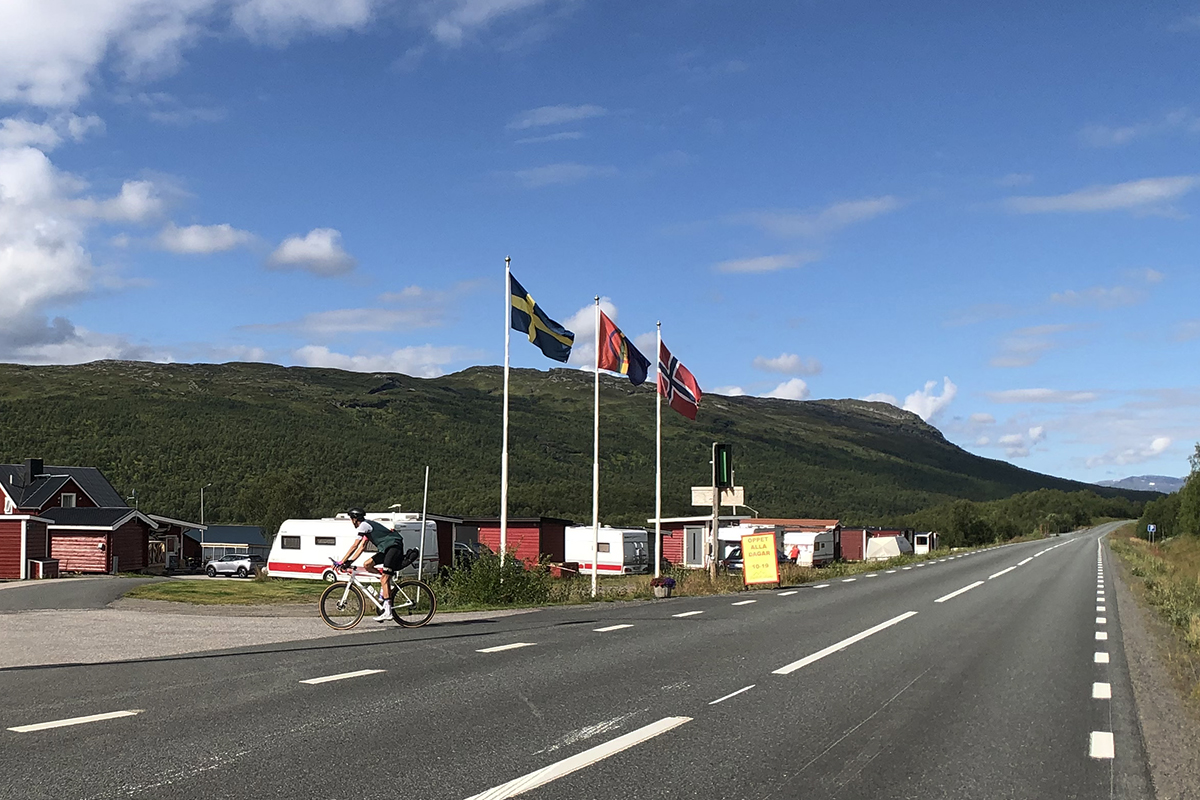 Checkpoints and accommodation
Subject to availability, the event provides a limited number of sleeping places for short naps at most checkpoints. Hotel rooms and lodges can be booked privately in advance if you want to take longer breaks during the brevet. Links to hotels, B&Bs and campsites with cabins that offer discounts for participants will be added here during the period leading up to the event.
The first checkpoint after start is Hotell Lappland on Ume River in Lycksele. The cyclists arrive here a few hours after sunrise. Here participants make a stop for a coffee and a sandwich. The brevets's second checkpoint, Storuman Camping & Cabins on Lake Storuman, is the first checkpoint that offers sleeping accommodation. Kittelfjäll is the third checkpoint. Here, the event has several 4-bed rooms at Kittelfjäll Youth Hostel, with showers and a kitchen.
Hattfjelldal Hotel is the first check in Norway and here too the event has a room for the participants. The next checkpoint is Yttervik Camping & Cabins situated on the Ranfjord. A 4-6 bed cabin is at disposal of the event here. Not far from Yttervik camping is the port city of Mo i Rana. The course follows the European route E6 which makes a detour around the town centre but if you want to take a sleeping break in Mo then a stay at Scandic Meyergården Hotel is recommended. Mo has a selection of restaurants and shops. If you visit Mo, you need to connect to the course again where you left it.
From Mo the course leads up into the mountains again to the Arctic Circle Center at the Arctic Circle. This is only a food checkpoint. After the Arctic Circle, the course leaves the E6 at Junkerdal where it and turns east back to Sweden. Before this, there are two more alternatives for an overnight stay which are not checkpoints: Saltfjellet Hotel Arctic Circle and Saltdal tourist centre. For the latter option you will need to make a detour of about 1 km, but in addition to sleeping places they also have a grocery store and restaurant.
After Junkerdal and the Swedish border comes the brevet's seventh checkpoint Sandviken Mountain Lodge on Lake Tjaktjaure. Here, too, the event has a cabin at its disposal. The eighth checkpoint is Hornavan Hotel in Arjeplog. In addition to sleeping accommodations for the participants the hotel also has a restaurant. The last checkpoint that offers sleeping arrangements is Sorsele Community Centre in Sorsele.
The brevet's tenth and last checkpoint before the finishing line is Granströms Café in Mårdsele which is a food checkpoint. Also the finishing line, Scandic Plaza, will have snacks to offer participants, no matter what time they arrive. During the day and evening the hotel also has a restaurant. For participants who have booked a room at Scandic Plaza, the logistics after the finish will be easy.
---
Scandic Plaza Umeå
Book on website www.scandichotels.com or call +46 8 517 517 00, #1.
Use booking code BMRS170622 (valid for stays between 17th and 24th of June).
Last day for booking: 17th of April.
To guarantee a room bookings are made to a credit card.
Payments are made later in conjunction to stay.
Reservations can be changed or cancelled until 17th of June, 18:00.
For amendments/cancellations made after 18:00 a full charge of the night may apply.
---
| | | | | | | | | | |
| --- | --- | --- | --- | --- | --- | --- | --- | --- | --- |
| CHECKPOINT | KM | (KM) | OPENS | (ETA) | Km/h | CLOSES | (ETA) | Km/h | SERVICE |
| Umeå – Brännlands Wärdshus | 0 | (0) | juni 19 23:07 | (00:00) | | juni 20 00:07 | (00:00) | | |
| Lycksele – Hotell Lappland | 122 | (122) | juni 20 02:42 | (03:34) | 34,0 | 07:15 | (08:12) | 15,0 | Mat |
| Storuman – Storuman Camping | 230 | (108) | 05:56 | (06:49) | 33,7 | 14:27 | (15:23) | 15,0 | Mat/Sova |
| Kittelfjäll – Fjälltorget | 352 | (122) | 09:45 | (10:36) | 33,1 | 22:35 | (23:27) | 15,0 | Mat/Sova |
| Hattfjelldal – Hattfjelldal Hotell | 451 | (99) | 12:57 | (13:48) | 32,6 | juni 21 05:11 | (30:52) | 15,0 | Mat/Sova |
| Mo i Rana – Yttervik Camping | 546 | (95) | 16:07 | (16:58) | 32,1 | 11:31 | (37:12) | 15,0 | Mat/Sova |
| Arctic Circle – Arctic Circle Center | 643 | (97) | 19:27 | (20:18) | 31,6 | 18:53 | (44:49) | 14,7 | Mat |
| Tjaktjaure – Sandvikens Fjällgård | 723 | (80) | 22:19 | (23:07) | 31,2 | juni 22 01:53 | (51:54) | 14,2 | Mat/Sova |
| Arjeplog – Hornavan Hotell | 836 | (113) | juni 21 02:21 | (27:09) | 30,7 | 11:46 | (61:26) | 13,8 | Mat/Sova |
| Sorsele – Sorsele Bygdegård | 927 | (91) | 05:36 | (30:24) | 30,4 | 19:44 | (69:24) | 13,5 | Mat/Sova |
| Mårdsele – Granströms Café | 1071 | (144) | 10:56 | (35:37) | 29,9 | juni 23 07:27 | (75:00) | 13,3 | Mat |
| Umeå – Scandic Plaza | 1205 | (134) | 15:54 | (40:47) | 29,5 | 17:07 | (90:00) | 13,4 | Mat |
Checkpoints calculated according to ACP90. ETA = estimated time of arrival (at max/minimun speed).
| | | | | | | | | | | |
| --- | --- | --- | --- | --- | --- | --- | --- | --- | --- | --- |
| CHECKPOINT | KM | (KM) | TIME | ETA (15 km/t) | TIME | ETA (17 km/t) | TIME | ETA (20 km/t) | TIME | ETA (24 km/t) |
| Umeå | 0 | (0) | 00:00 | Mon 23:07 | 00:00 | Mon 23:07 | 00:00 | Mon 23:07 | 00:00 | Mon 23:07 |
| Lycksele | 122 | (122) | 08:08 | Mon 07:15 | 07:11 | Mon 06:17 | 06:06 | Mon 05:13 | 05:05 | Mon 04:12 |
| Storuman | 230 | (108) | 15:20 | Mon 14:27 | 13:32 | Mon 12:38 | 11:30 | Mon 10:37 | 09:35 | Mon 08:42 |
| Kittelfjäll | 352 | (122) | 23:28 | Mon 22:35 | 20:42 | Mon 19:49 | 17:36 | Mon 16:43 | 14:40 | Mon 13:47 |
| Hattfjelldal | 451 | (99) | 30:04 | Tue 05:11 | 26:32 | Tue 01:38 | 22:33 | Mon 21:40 | 18:48 | Mon 17:54 |
| Mo i Rana | 546 | (95) | 36:24 | Tue 11:31 | 32:07 | Tue 07:14 | 27:18 | Tue 02:25 | 22:45 | Mon 21:52 |
| Arctic Circle | 643 | (97) | 42:52 | Tue 17:59 | 37:49 | Tue 12:56 | 32:09 | Tue 07:16 | 26:48 | Tue 01:54 |
| Tjaktjaure | 723 | (80) | 48:12 | Tue 23:19 | 42:32 | Tue 17:38 | 36:09 | Tue 11:16 | 30:08 | Tue 05:14 |
| Arjeplog | 836 | (113) | 55:44 | Wed 06:51 | 49:11 | Wed 00:17 | 41:48 | Tue 16:55 | 34:50 | Tue 09:57 |
| Sorsele | 927 | (91) | 61:48 | Wed 12:55 | 54:32 | Wed 05:38 | 46:21 | Tue 21:28 | 38:38 | Tue 13:44 |
| Mårdsele | 1071 | (144) | 71:24 | Wed 22:31 | 63:00 | Wed 14:07 | 53:33 | Wed 04:40 | 44:38 | Tue 19:44 |
| Umeå | 1205 | (134) | 80:20 | Thu 07:27 | 70:53 | Wed 21:59 | 60:15 | Wed 11:22 | 50:13 | Wed 01:19 |
Arrival times (ETA) at total average speeds (15-24 km/h), including stops. Summer solstice
Tuesday June 21 09:13:49 (UTC+00)
---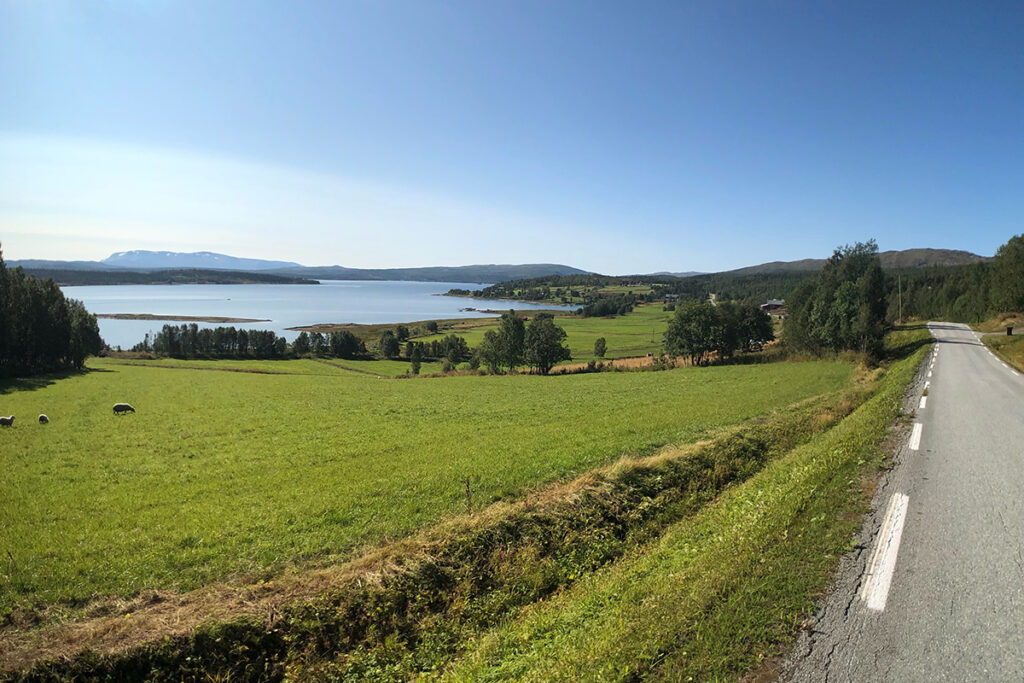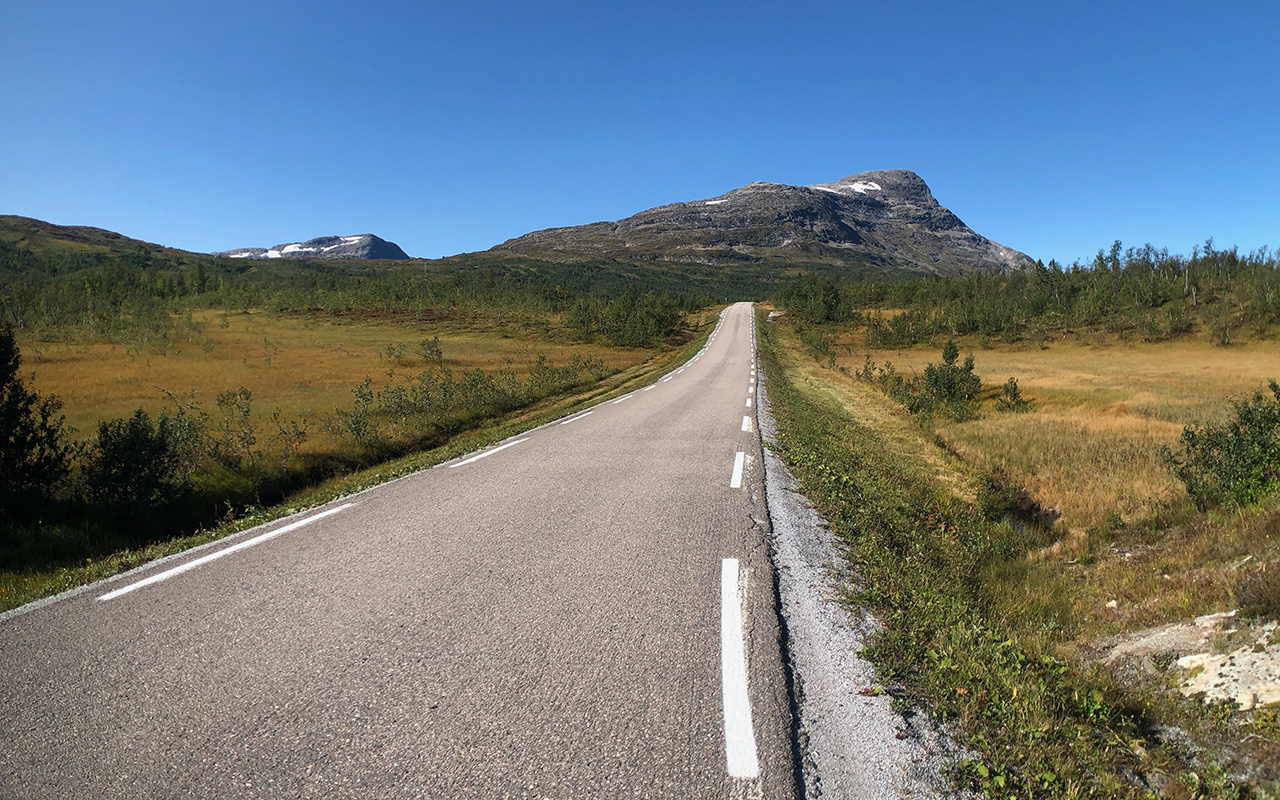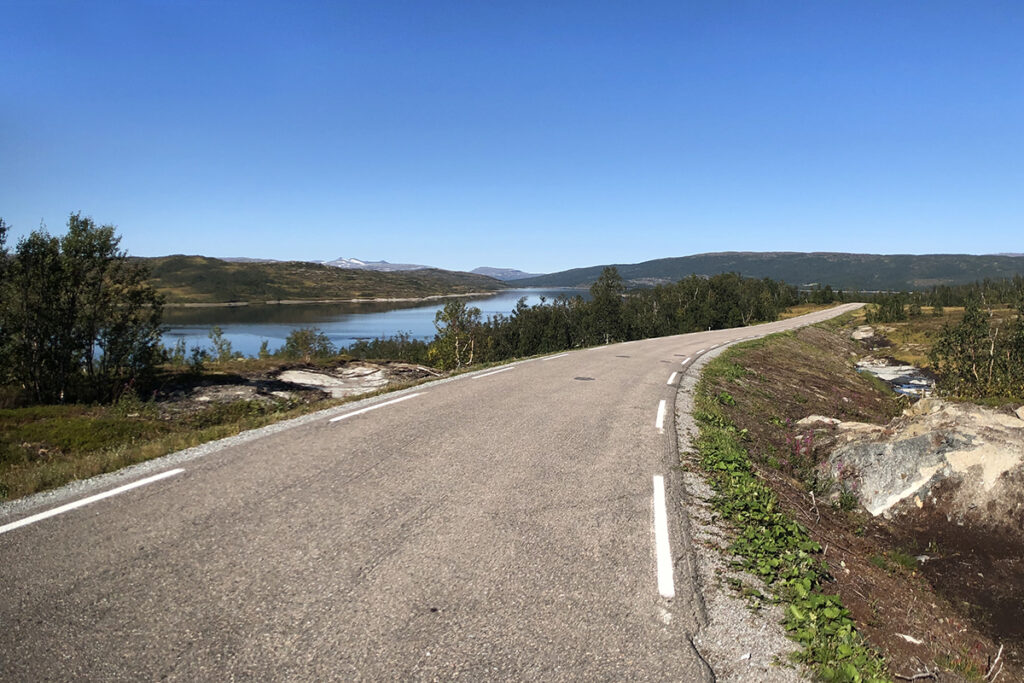 Grocery stores and restaurants
This event takes place in a sparsely populated region of Scandinavia so towns and villages are few and far between. The opportunities to refill supplies between checkpoints will therefore be very limited, so don't count on being able to make spontaneous food stops along the way. Apart from the checkpoints themselves, Lycksele, Mo i Rana and Arjeplog all have petrol stations with 24 hour service where food can be purchased. The towns and villages that have checkpoints, Lycksele, Storuman, Kittelfjäll, Hattfjelldal, Mo i Rana and Sorsele also have restaurants and grocery stores that are open until at least 20:00. In addition to this there are there are grocery stores, restaurants and petrol stations that serve food in villages that aren't checkpoints, for example Korgen (until 22:00), Jäkkvik, Rusksele, Åmsele and Vindeln (until 21:00). Debit cards such as Mastercard and VISA are generally accepted in both Sweden and Norway.

Status of the roads
This event is held on paved roads that are in very good to acceptable condition. Some road sections have been damaged by frost causing raveled asphalt and transverse cracking of the road surface. Look out for potholes and ruts on these roads. Some minor road sections have been resurfaced with, for bike tires, coarse asphalt. Larger tire dimensions and lower tire pressures reduce vibrations from the road but for the course as a whole, tires with the dimensions 25-28 mm are recommended. The course also has a small gravel section of 20 km just before the village Dikanäs.
Road repairs will take place on the gravel section during the spring but the road is judged to be in good condition before the start date. Road works may also occur on the E12 between Storuman and the village Forsnacken. There may also be road works on the section of road between Rödåsel and Spöland at the end of the course.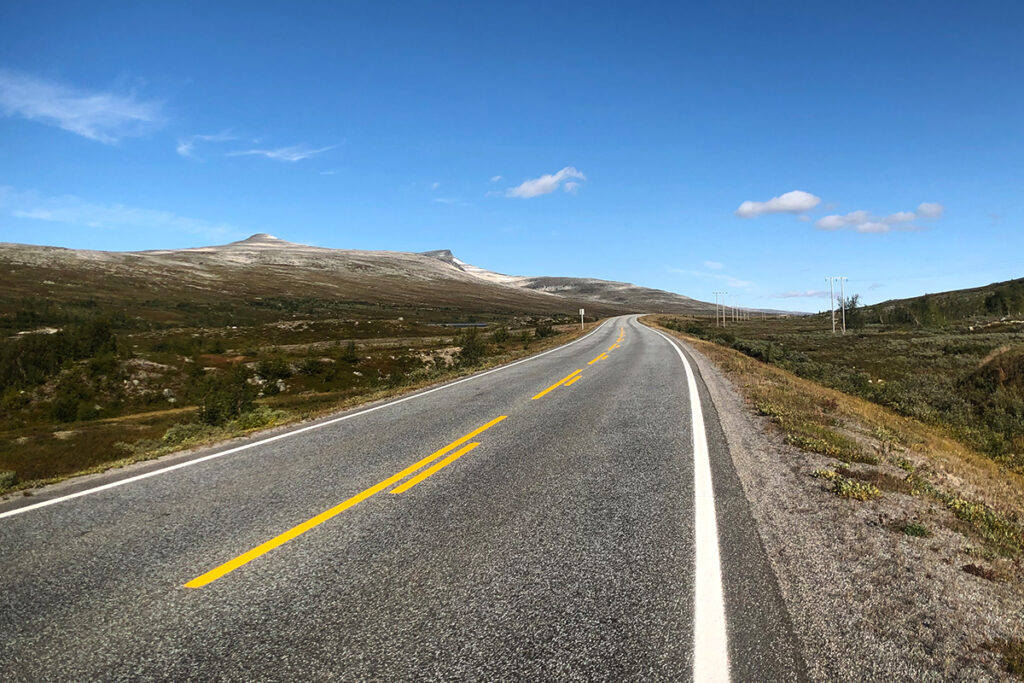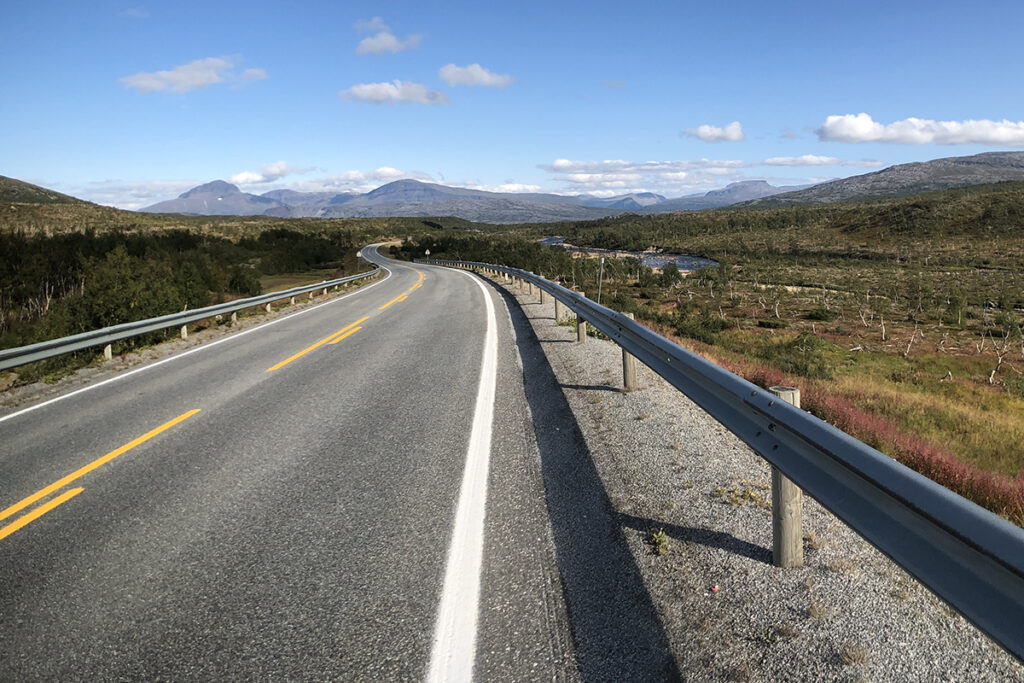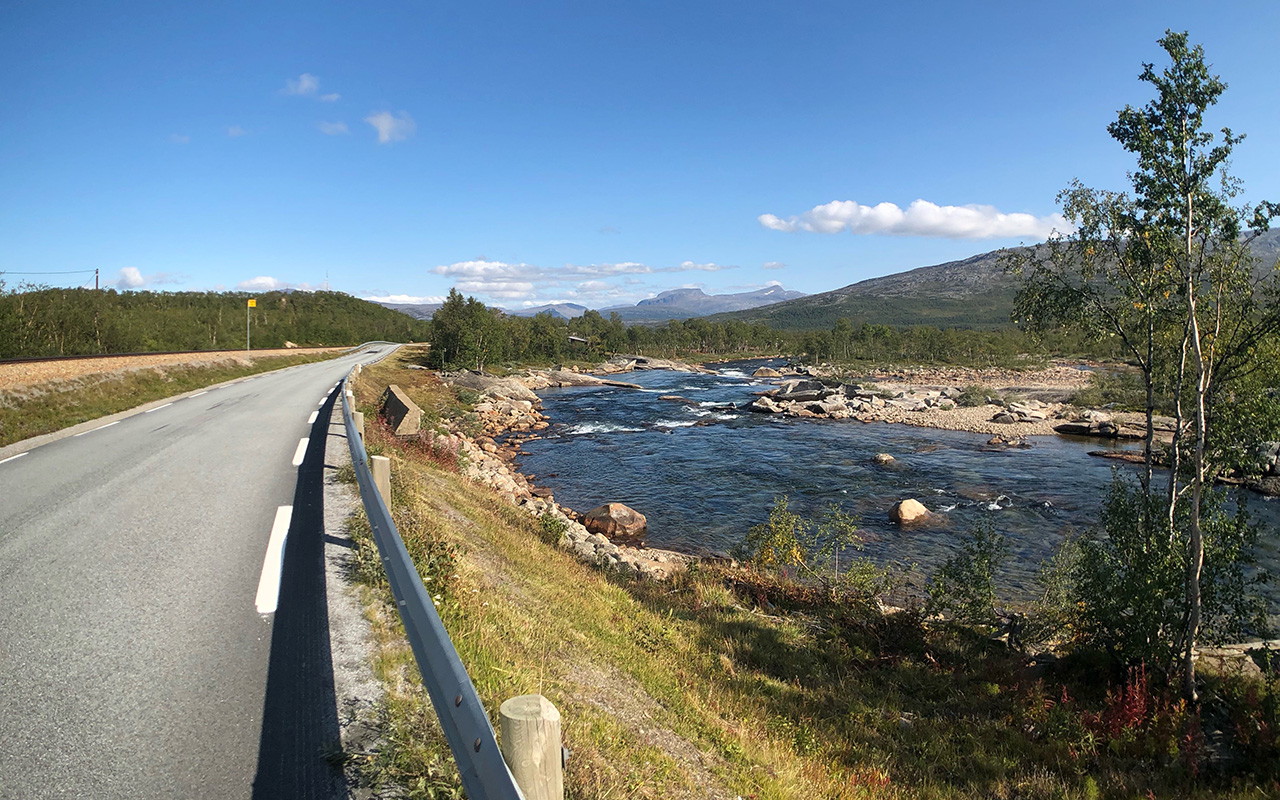 Climate and weather
The meteorological definition of spring is rising daily average temperatures between 0°C and 10°C for at least seven consecutive days. At the latitudes of the event, meteorological spring normally occurs in late April and early May. Meteorological summer occurs when the daily average temperature has been at least 10°C during five consecutive days. In the mountains, meteorological spring turns into meteorological summer during the event in mid-June.
The daytime temperatures on lowland terrain will be around 15 – 20°C which will drop to 10°C – 5°C at altitudes above the tree line. Night temperatures on low-lying terrain: 10°C – 5°C. Above the tree line, night temperatures stay around 5°C – 0°C.
The topography of a landscape has a determining influence on winds, temperatures and precipitation. In the mountains the weather therefore remains changeable and unpredictable even in summer. Chance of rain in the mountains during the event? About 50 percent. In June this will usually be light to moderate rain, however, occasional heavy rainfall can occur. There may also be light snowfall although this will not stay on the roads. Average temperatures and wind speeds in June:

| | | | | | | |
| --- | --- | --- | --- | --- | --- | --- |
| CHECKPOINT | DAY-NORMAL | DAY-MAX | NIGHT-NORMAL | NIGHT-MIN. | VIND-AVG | VIND-MAX |
| Umeå | 20°C | 24°C | 8°C | 4°C | | |
| Lycksele | 20°C | 26°C | 7°C | 2°C | | |
| Storuman | 19°C | 25°C | 7°C | 2°C | | |
| Kittelfjäll | 14°C | 22°C | 4°C | -1°C | 7-14 km/t | 32 km/t |
| Hattfjelldal | 12°C | 23°C | 6°C | 2°C | 7-14 km/t | 32 km/t |
| Mo i Rana | 17°C | 26°C | 10°C | 4°C | 7-14 km/t | 32 km/t |
| Arctic Circle | 9°C | 23°C | 6°C | 2°C | 11-18 km/t | 32 km/t |
| Mierkenis | 14°C | 22°C | 4°C | -1°C | 7-21 km/t | 50 km/t |
| Arjeplog | 17°C | 25°C | 7°C | 2°C | | |
| Sorsele | 18°C | 25°C | 8°C | 3°C | | |
| Mårdsele | 19°C | 25°C | 8°C | 4°C | | |
Clothes and equipment
As you see above, daily temperatures will fluctuate during the event. Temperatures may reach 25°C during daytime and drop to 0°C during the night. Add to this the wind chill factor when choosing clothes for the event. An air temperature of 5°C combined with wind speeds of 18 km/t will give a wind cooling temperature of 1°C. Therefore, choose high-quality wind/rainwear and long-finger gloves that keep you warm and dry, even in the very worst of weather conditions. The event will not provide a bagdrop service so the clothes you wear during the brevet must be carried on the bike from start to finish. For this reason, choose clothes that will give you as many combinations as possible instead of items that you may only use once or not at all. A system with layers of thinner garments that have different properties is recommended. They give you the possiblity to regulate your temperature during the day by making short stops to remove or put on a layer that are then stored in your back pocket for later use. Lined shoe covers, windproof vests, and leg and arm warmers are practical in conditions with varying temperatures.
As has been mentioned, personal assistance such as follow cars or food depots between checkpoints are not permitted in brevets. Because the course crosses mainly sparsely populated areas, the opportunities to refill supplies can quickly become very uncertain, especially in the mountains. For this reason, it is very important that you carry enough food and drink with you on the bike to get you between checkpoints. In brevets, saddle or frame bags are usually used to carry food, tools, rainwear etc., see examples: Apidura, Ortlieb, Arkel, Roswheel, Pro Discover. On busy roads and roads with speed limits between 90-100 km/h, a reflective vest can be a good complement to a lit taillight, especially in rain and fog.
---
MSR jersey
A cycling jersey for the event will be on offer starting in late autumn. The price of the jersey depends on the number of orders. In order to obtain a minimum price, orders will be collected during the winter and a group order will be placed in mid-March. If you wish to wear the jersey during the event, you must place your order at latest by the 13th of March. The jerseys will then be shipped either to the your chosen delivery address at the end of April or to the start location in Umeå for pick-up on the day before the event. Please note, these cycling jerseys are made to order and therefore cannot be returned. Therefore, please consult the online shop's size guide before ordering. That said, subject to availability, size exchanges can be made on location in Umeå. The organiser Cykelintresset will offer a limited number of jerseys for sale the day before the event and so also size exchanges can be made then.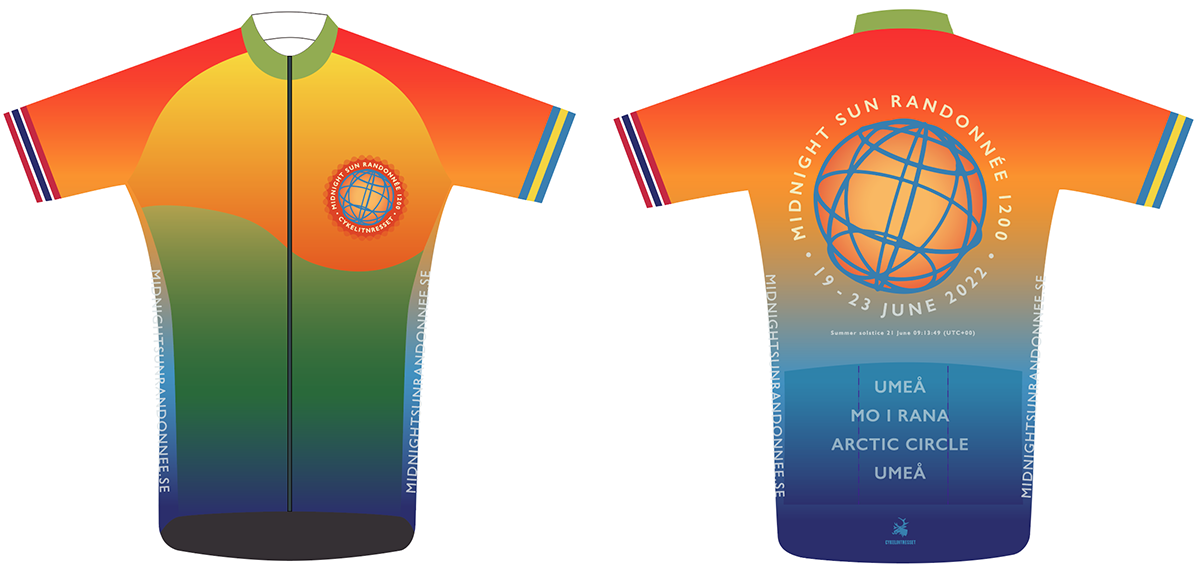 ---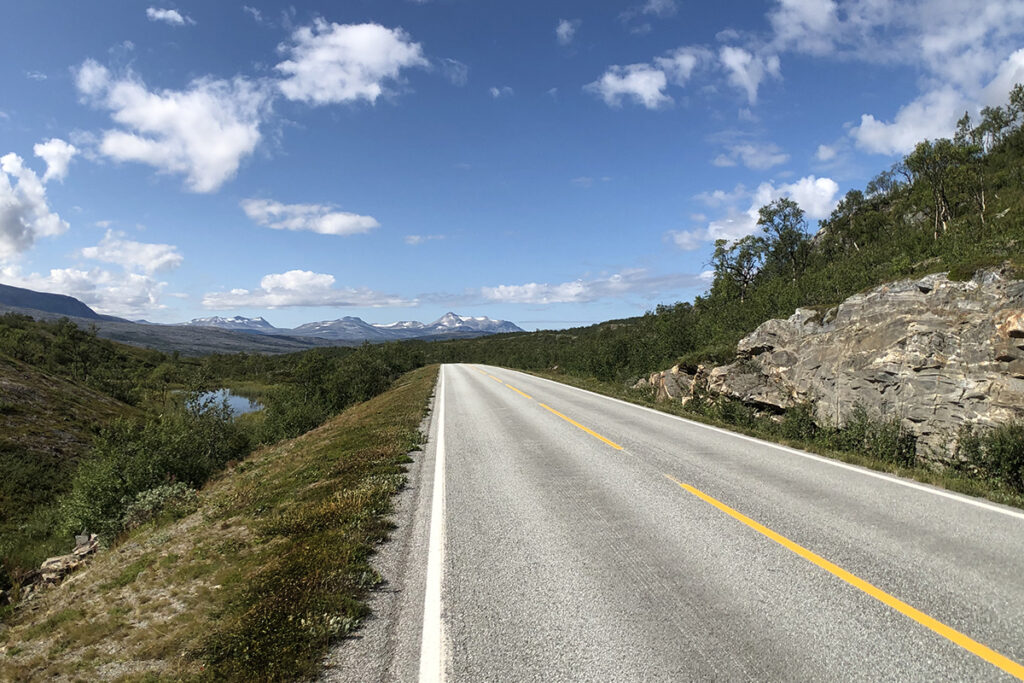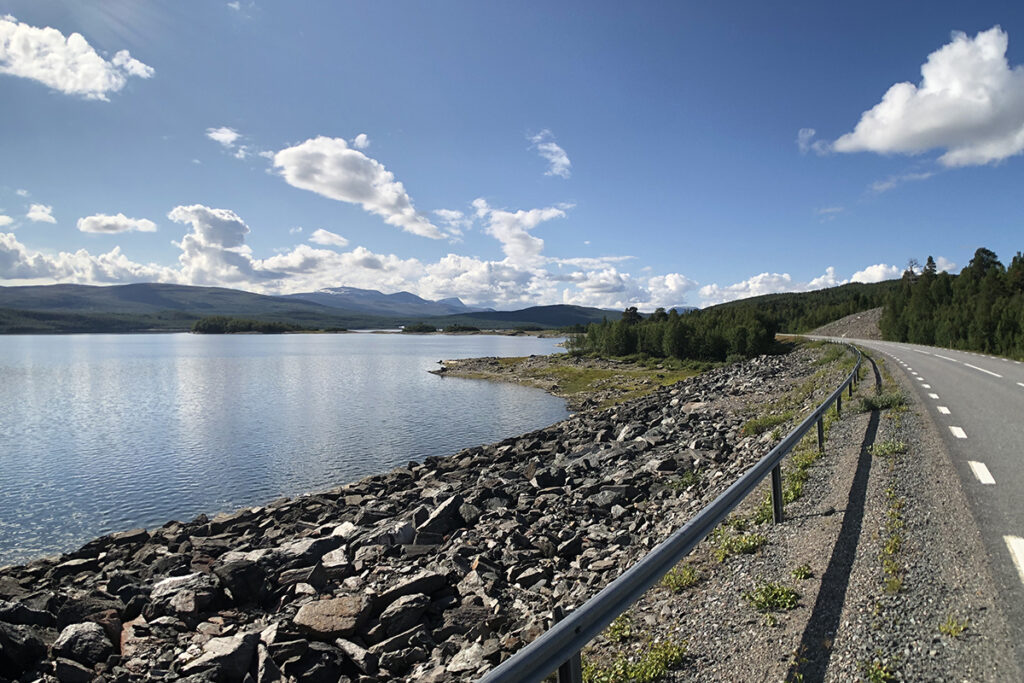 Electronic equipment
The event MSR uses a simple and easy-to-use website during the race for tracking purposes and for personal safety in the mountains. By checking in at checkpoints via the website both the organiser and friends and families will be able to follow your progress along the course. For this reason, perhaps even if you want to take photos, it is important that your mobile phone is switched on during the race. For international participants outside the EU/EES a prepaid solution will be practical, Telia Prepaid.
In Sweden and Norway, the standard voltage is 230V. Sockets: type F Schuko (EE 7/4) and type C Europlug.

Fauna and nature
You will have a good chance of seeing moose, reindeer and foxes close to the road, especially in the evening and night. You may also see red deer and roe deer, and in rare cases wolverene, lynx or pine marten; perhaps even grey wolf or brown bear. On the mountain lakes you will find birds such as whooper swan, mute swan, and arctic loon. In farm meadows you may see common crane, canada geese and greylag geese. In the forests you may see black woodpecker, great spotted woodpecker, common cuckoo, capercaillie and black grouse, but also birds of prey such as boreal owl. You also have a chance of seeing larger birds of prey such as golden eagle and rough-legged hawk. Above the tree line you may see rock ptarmigan. In Norway around Lake Rössvattnet, domestic sheep roam loose on the roads. Down by the sea you will perhaps see a white-tailed eagle soaring above the Ranfjord among arctic tern and several species of gulls.
The right of public access to the wilderness prevails in both Sweden and Norway, which means that it is permitted to both camp and swim in privately owned forests and lakes as long as you do not litter or destroy; or are in close vicinity to private homes (if so, ask permission first). In the mountains, the water in streams is drinkable. However, do not drink from stagnant water. The water should be running and clear.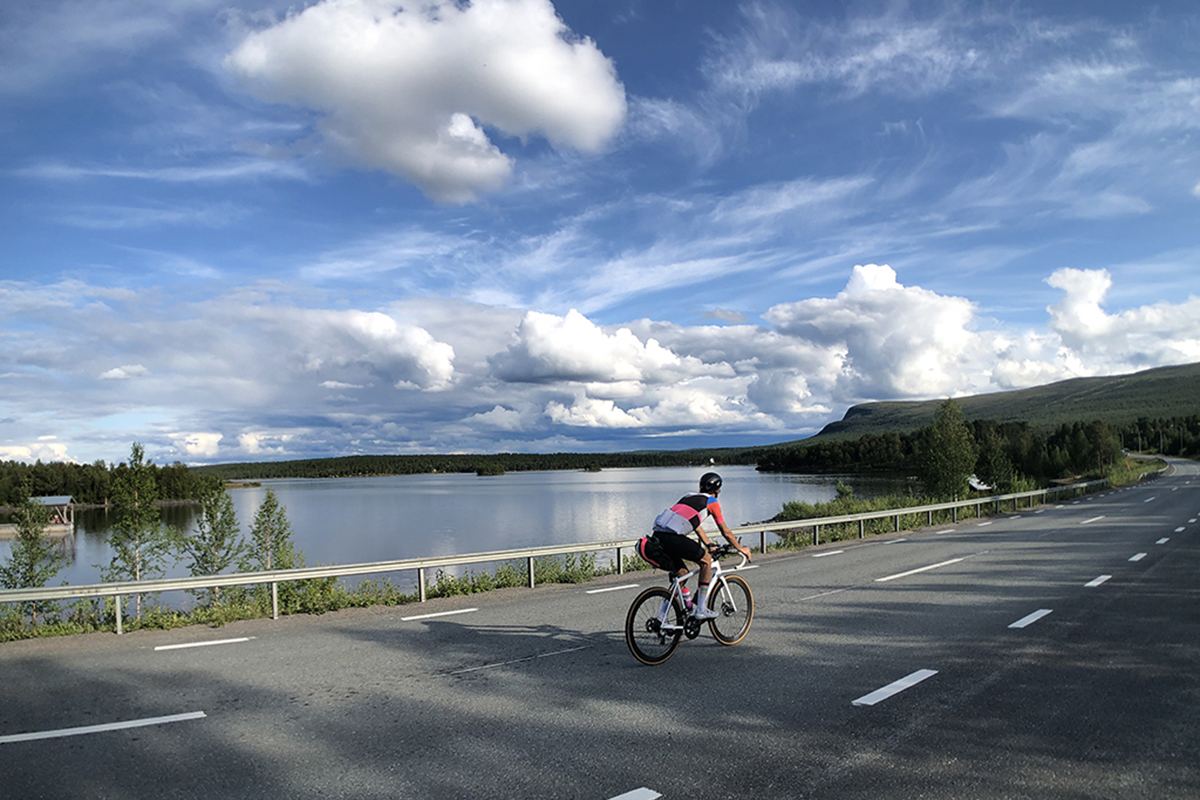 ---
Tips for the road
Before the event, study the course in Google Street View, in particular critical road junctions and the location of the brevet's checkpoints.

When cycling conserve energy as much as possible. Try to keep a steady heart rate throughout the brevet. Imagine that you will cycle the second half of the brevet faster than the first.

Don't stress, which is also a waste of energy. A brevet is largely a mental test. Don't count kilometers. Relax and let the brevet take the time it takes. Subdivide the distance into shorter stage goals and focus on them.

Plan your food and fluid intake long-term. Do not leave a checkpoint without refilling supplies and water bottles. Always carry reserve supplies in case of something unforeseen happens between checkpoints. That said, help from residents along the course is allowed, such as refilling water bottles or repairing a bike, even between checkpoints.

Don't forget to register at the checkpoints! Check in at the checkpoints and make sure that your brevet card is signed and/or stamped BEFORE you do anything else, for instance eat, sleep or visit the toilet etc.

The organiser Cykelintresset wishes you a safe journey and good luck!
---